*Covid - 19 service disruptions:
We want to thank all our loyal customers for their patience and understanding during this difficult time. This week has been one of the most challenging Con-x-ion has faced in its 30 year history. From team members safety to passenger safety and ultimately due to the total drop in passenger numbers we must confirm that from midnight Wednesday 25th of March until 1st of July 2020 we will be suspending most of our seat in coach services (in line with Queensland closure of its borders). There are some limited services that will be available during this time, please contact the call centre or use the website to book these services. We are very sorry for the disruption this may cause in the interim to your travel plans and look forward to being here in the future to assist you with your transport needs.
Disclaimer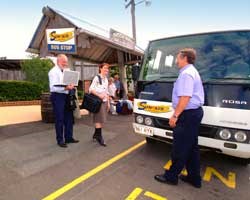 The material in this website is presented by Sun-air bus service as an information source only.
Sun-air bus service makes no warranties, representations, or statements about the accuracy or completeness of any information contained in this web site. Despite our best efforts, Sun-air bus service makes no warranties that the information in this web site is free of infection by computer viruses or other contamination.
Sun-air bus service disclaims all responsibility and all liability including without limitation, liability in negligence for all expenses, losses, damages and costs you might incur as a result of the information being inaccurate or incomplete in any way, and for any reason.