Conditions of Travel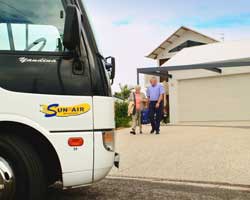 Sun-air bus service shall not be held responsible for consequences relating to your choice of service/bookings made via the online facility or via phone reservation. For standard check in period's we strongly encourage a minimum of one hour for check-in at Domestic and two hours at International. Anything less that this is classed as "own risk travel". Whilst we do allow additional time for possible traffic delays, for travel at peak times (school holidays / long weekends) you are recommended to allow additional travel time as major traffic delays are possible.
DELAYS Sun-air will not be responsible for delays due to circumstances beyond our control. However, we will make every effort to overcome the problem. If your flight plans are altered it is vital that you notify the Sun-air office. We cannot guarantee pickup to or from the Airport for any new or altered flight times however we will make every attempt to accommodate your new arrangements. Sun-air cannot be held responsible for missed services as a result of an airlines inability to maintain schedule.
EXCESS BAGGAGE 
Luggage is limited to one suitcase and one piece of hand luggage per person (per airport weight guidelines). Surcharge applies to additional luggage items (see below). All luggage must be clearly labeled by the passenger/s, including name and residential address. Passenger/s should carry valuable and fragile items (e.g. jewelry, expensive equipment, cash etc.) on-board. Con-X-ion shall not be liable for the loss of or damage to any personal effects, luggage or other goods, whether or not such loss or damage is suffered, or is caused by anything occurring before, after, or in the course of any journey.
Surcharge applies to the follow luggage items.
Additional suitcases - $6.00 per extra piece of luggage
Surfboards - $10.00 each. Surfboards must be less than 6ft long (183 cm), Should the surfboard exceed 6ft they will be unable to be transported due to our coaches' trailer size restrictions.
Bike in Bike Box - $10.00 each
Golf Clubs - $10.00 (one set per passenger)
Excess luggage falling outside the above groups will have the cost confirmed by the driver upon boarding.
FOOD and DRINK are not to be consumed on Sun-air buses. 

SMOKING: drug and alcohol consumption is prohibited on all Sun-air buses. Any passenger displaying behaviour that causes distraction to the driver or other passengers will be asked to leave the vehicle at the nearest safe drop off location and a taxi will be called at the passenger's expense.
CHILDREN aged 1-14 years are charged at the child rate. Infants under 12 months can travel on an adults lap free of charge (in accordance with Queensland Transport legislation). Children aged 12 months and above must be allocated a seat. Sun-air bus service do not supply child booster/capsule seats however there are restrain points in all vehicles if required. It is the parent/guardians responsibility to safely restrain their child.   
UNACCOMPANIED CHILDREN children under the age of 16 must be accompanied by an adult.
ACCESSABILITY BUS is available for passengers who can transfer from their wheelchair into a Sun-air seat. The lift is used to carry the passenger onto the bus and the passenger relocates into a bus seat. We do not have facilities for passengers (in wheelchair) to be strapped into the bus in their chair. Wheelchairs are stored in the trailer – we do not have facilities to cater for "scooters" as their weight exceeds our WPHS lifting standards. Use of the accessibility bus must be pre-booked and confirmed by Sun-air reservations over the phone on 07 5477 0888.
PASSENGERS REQUIRING ASSISTANCE Please note that it is a requirement of Sun-air bus service that all passengers must be able to manoeuvre themselves on and off the bus independently. The following procedures are in place to ensure safe transfer of all passengers:
Passengers MUST be able to walk and climb steps onto the bus unattended (steps are approx 25cm high).
Sun-air drivers are not qualified to provide paramedic, carer, or patient transfer services
Sun-air drivers will assist with luggage on and off the Sun-air vehicle but are unable to enter the airport terminals.
PETS due to health and safety regulations, Sun-air is unable to transport pets (other than registered Guide and Assistance dogs). For animal transport services try Doggy Tainers 1300 135 252 or Dog Movers 07 5530 2710
REFUNDS will be subject to the following fees:
Cancellations over 24 hours prior to departure will incur a $10 minimum cancellation fee.
Cancellations less than 24 hours prior to departure - Nil refund.
Failure to board - Nil refund.
Please note that our minimum cancellation fee is $10.
TRAVEL INSURANCE it is recommended that you purchase travel insurance, which can cover things like:
changes in travel plans and travel cancellation,
delayed, damaged or lost baggage and other items,
missed services and additional expenses,
medical and hospital expenses,
personal injury and death.
All information contained herein is subject to change without notice.