From One Bustling City to Australia's Top Relaxing Destinations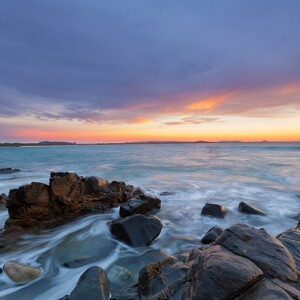 Brisbane is one of the largest cities in Queensland that has been consistently making millions of tourist visits in the region every year. Locals and tourists would see this tourism mecca as an escape and a way to achieve the best holiday they can experience in Australia. Not far from Brissie is the quiet yet stunning Noosa. It is home to numerous outdoor and water activities that promises nothing less but the best experience.
It will take you less than 2 hours to travel from Noosa to Brisbane. The capital city offers a serious list of things to do, foods to try, and experiences to bring home after your holiday. Brisbane River remains to be the top iconic symbol of the city, seconded by the equally stunning Story Bridge. Such destinations are not to be missed during your visit.
Noosa is equally impressive. It offers a more affordable recluse in terms of places to go and experiences to check out. Tanning is not the only thing that you can do in the region's beaches. There are about 5 different tracks that you can take when you visit the famous National Park. You can also tag along a picnic basket to keep you full as you take a swim in the area.
There are also a lot of dolphins you can spot in the area. The Dolphin Point is literally the best place to see loads of dolphin in one visit. The Aldi Supermarket also gives you access to mangrove forest. You'll definitely see a lot of animals, turtles, and other fauna in the area. Enter the National Park for a free encounter with the cute Koalas!
Sun Air will bring you safely from Brisbane to Noosa (and back). With timely arrivals, convenient pick-up points, courteous staff, and comfortable shuttles, your dream holiday begins with a one-of-a-kind ride experience with us.
Brisbane to Noosa Bus
Travel with ease and comfort between these 2 top destinations via Sun Air's buses to Noosa from Brisbane (or back). Book your transfers online hassle-free or call us to arrange your transfers on your preferred travel time and choice of pick-up and drop-off points. Daily services are available so you can sit back and relax while we transfer you in comfort to your destination.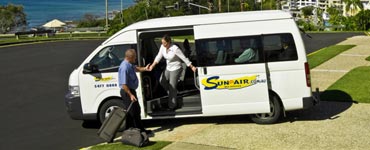 Transit Stops
Noosa Junction Station (Platform 1)
Noose Parade Transit Stop
Tewantin - Atrium
Top Things to Do & See for Brisbane <> Noosa Trip

Moreton Island

Just a few minutes at the offshores of Brisbane is the pristine Moreton Island. Besides several water activities to keep you busy during the day, you can also relax at the dolphin feeding areas located nearby. This protected sand island is home to the Mount Tempest. The Tangalooma Wrecks is also located in the area. Humpback whale watching is best hosted at the Cape Moreton, a 19th-century lighthouse in the sanctuary.
Workshops Rail Museum

Families on a holiday would definitely include kid-friendly sites and activities. The Workshops Rail Museum should top your list -- kids will love the interactive setup of the museum. It is a mix of learning and actually experiencing the highlights of the city's transportation history. It features both the old and the modern transportation models used in Brisbane back then and today. A fun escape for the whole family indeed.
Moreton Bay

Whale watching is one of the things that Brisbane is popular for. You can simply grab a car or shuttle anywhere in the city and then head to the Moreton Bay for a close encounter with these huge mammals. For a better view, you can head to the Brisbane Whale Watching Vessel where you can get closer to this animals. With its modern machinery, you'll be close to the whales without scaring them away or threatening their natural habitat.
Kookaburra River Queens Cruises

The Kookaburra River Queen Cruises is one of your best options when treading the waters over the iconic Brisbane River. Get access to the best lookout point where you can glide over the waters and simply enjoy nature or go in style by taking out a paddlewheel vessel to conquer the busy river. Whatever your choice of transportation may be, you'll get the satisfaction that you need while taking one of your best holidays.

Noosa Main Beach

Noosa offers a long list of beaches to try but Noosa Main Beach is considered one of the best. It's a free-for-all beach and stands outs mostly because of its picture-perfect beachfront. It's a mix of city planning and architecture done right with touches of nature finely placed available for tourist and locals alike. With its pristine sand and clean water, your need for adventure near nature would be fully satisfied.
The Noosa Arts Theatre

The best kind of entertainment can be enjoyed amidst the tranquil appeal of Noosa by stepping in the Noosa Arts Theatre. It is the top spot for entertainment that has been around the region for decades. Whether it's drama, comedy, pantomime, musicals, or poetry reading, you'll get pure entertainment from a group of passionate talented artists. You'll be seated just a few steps away from the stage making it a truly a fun experience.
Tewantin National Park

A protected eucalyptus forest that is a haven for most nature lovers is what Tewantin National Park is all about. It also features a number of local wildlife including wallabies, koalas, frogs, and bird species that add a more natural touch to what the forest has to offer. The Mt. Tinbeerwah is also as striking as the park where you can get access to a 360 degree view of the hinterland. It's a free-for-all destination where adventures awaits.
Noosa Farmers Market

The good stuff when it comes to food and delicacies is just a few of the things that you'll enjoy at the Noosa Farmers Market. Foodies gather every Sunday from the morning til afternoon where several goods, fresh bakes, as well as fried and grilled servings are hosted. It's a gathering of fresh produce you should not miss.Tropical fruits such as avocados, pawpaw, mangoes, and apricots are also available in the area.
Arrival & Departure Procedures
ARRIVAL PROCEDURE
All arriving passengers are to make their way to the Sun

 

Air

counter prior to collecting their luggage. The departure schedule will be displayed at the counter.
Passengers are required to be at the counter ready to depart 10 minutes prior to departure time.
Passengers are expected to actively look for their driver who will be wearing a blue shirt and red Sun

 

Air

hat.
If you require assistance, please phone (07) 5450 5933.
LATE FLIGHTS
Passengers arriving from delayed flights, who missed the last service of the day, are required to make alternative travel arrangements at their own expense. Passengers booked on/who missed the last service hour will be eligible for a refund for the unused service. If your flight has been delayed please contact Sun Air immediately on (07) 5450 5933.

*Please note: Our services are unable to wait for delayed flights or late passengers. Sun Air is not responsible for delayed flights.

 
DEPARTING PROCEDURE
Your service should arrive during the 20-minute window outlined on your confirmation. You must be ready and waiting for the entirety of your pick up window.
If you miss your allocated service please make contact with Sun

 

Air

directly on (07) 5450 5933 ASAP. Ask your hotel/concierge if you require assistance.
Please ensure your mobile is switched on in case we need to contact you.
Passengers that are not found may not be eligible for refund or reimbursement.
Please do not depart in a taxi without making contact with Sun

 

Air

first.