Airport Transfer Charters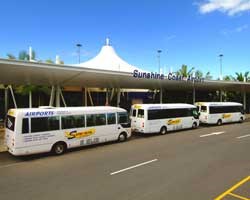 For passengers arriving or departing outside our normal hours of operation or for passengers requiring special sole use transfers, Sun-air offers a personal meet and greet service at the airports with full porterage. This service is available 24 hrs and must be pre-booked and pre-paid.
The Sun-air driver will meet you inside the terminal, at your luggage carousel for Domestic arrivals or at the Visitors Information Counter in the Arrivals Lounge for International arrivals. The driver will be holding a Sun-air sign with your name on it. You will then be transferred directly to your accommodation. On your return your Sun-air driver will pick you up from the front door of your accommodation and transfer you directly to the airport check-in counter of your choice.