From One Bustling Sunny City to a Surfing Paradise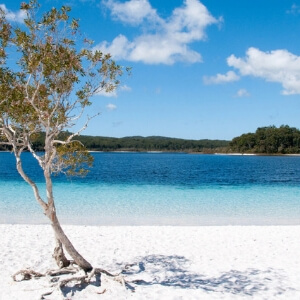 A bustling and growing city that offers exciting surprises almost every day is what Brisbane is becoming nowadays. With a range of different activities to do and surprising experiences offered in every corner, going to Sunshine Coast to Brisbane would be a great idea of a holiday. Sunshine Coast remains to be consistently one of the best places for water adventures in its pristine and fun beaches.
Competing with the busy streets of Sydney and Melbourne, millions of tourists are buzzing about the fun things to do in the area inviting millions of people to the capital city every year. An hour and a half travel from Brisbane to Sunshine Coast is a fun adventure you should take every once in a while.
Brisbane and Sunshine Coast are both different and the same in so many ways. With great surroundings accessible to both the conveniences of city life to lush gardens and close-to-nature activities, both cities offer the best of both worlds for any family or individual on a holiday. The Lone Pine Koala Sanctuary is a great place to start for close-to-nature adventures in Brisbane. Noosa Headlands near Sunshine Coast also offers the same experience with these fuzzy animals. Tours and fun outdoor activities can be enjoyed in both cities. So, jump into a Brisbane to Sunshine Coast bus to finally begin your adventure.
Brisbane has several popular travel destinations under its belt. This include the Story Bridge, the Brisbane River, and Queensland Art Gallery. There are also several markets, cafes, restaurants, and entertainment places to go to to keep you occupied and relaxed during your visit. Shopping havens are also plenty and worth your time to explore.
Sunshine Coast is a place of fun and entertainment as well. You can try out a lot of outdoor activities in the area. Whether its star gazing at the Mapleton Observatory, drinking coffee at the famous Costa Noosa Espresso, or running around the pathways in Alexandra Headland to Mooloolaba, you'll be guaranteed with fun experiences to check out.
Sun Air will bring you safely from Brisbane to Sunshine Coast (and back). With timely arrivals, convenient pick-up points, courteous staff and comfortable shuttles, your dream holiday begins with a one-of-a-kind ride experience with us.
Sunshine Coast to Brisbane Bus
Travel with ease and comfort between these 2 top destinations via Sun Air's buses from Sunshine Coast to Brisbane Airport (or back). Book your transfers online hassle-free or call us to arrange your transfers on your preferred travel time and choice of pick-up and drop-off points. Daily services are available so you can sit back and relax while we transfer you in comfort to your destination.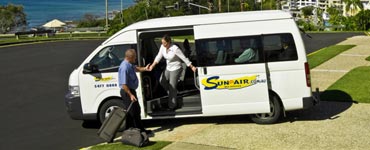 Transit Stops
BP MooloolabaCaloundra Rd Info Centre
Coolum Ticket Park Bus Stop
Cooroy Motel Bus Stop
Eumundi Post Office
Forest Glen BP Northbound
Horton Parade Transit
Maroochydore
Moby Vics Shell Service Station
Mooloolaba Visitor Information Centre
Nambour Railway Station
Noosa Junction Station (Platform 1)
Noosa Parade Transit Stop
Tewantin - Atrium
USC Bus Stop (University of Sunshine Coast)
Woombye SPAR
The Ginger Factory
Top Things to Do & See for Brisbane <> Sunshine Coast Trip

Lumber Punks Axe Throwing

Up for some unique adventure? Throwing knives would be a fun and new activity to do. Lumber Punks at West End is the first ever axe-throwing venue in the city. It's a perfect destination for several reasons. It could be ideal for a date, having fun with friends, or simply to experience throwing a real knife and hitting the bullseye. It also offers packages for groups and can accommodate several dozens at a time.
Stanley Street Plaza Markets

If you are up for some souvenir shopping from new and experienced artisans, check out the booths and stalls at the busy Stanley Street Plaza. The fun market is available every Friday evening up until the weekends. You'll get to see handmade jewelry, antiques, pictures, and vintage fashion perfect as memorabilia from your trip in Brisbane. Several food stalls are also located in the area where you can fast dine anytime you want.
Nightfall Camping

See Brisbane in a different light by literally spending a night under the stars. Visit the Nightfall Wilderness camp situated in a 257 acre property located 90 minutes south of Brisbane. There you'll see the Lamington National Park rainforest as well as diamond-clear rapids that epitomise the beauty of the area. Enjoy a non-fire cooked meal before drifting to sleep inside your private and luxurious tents.
Delicious Dining in Brisbane

There are a lot of sumptuous dining options available in Brisbane. You can visit Esquire for some fine dining experience while enjoying the twinkling lights at the Story Bridge and the Brisbane River. You can also check out Gerard's Bistro, Stokehouse, and The Foraging Quail as recommended by most tourists. Each meal is ended with international wines made from the best vineyards in the country.

Elanda Point

Get a little bit more daring and closer to nature by hiring a canoe as you spend half a day around Elanda Point while paddling around the area. It is a peaceful abode where you can enjoy canoeing without having to worry about the wind blowing on your face or making it hard to paddle. If you're not up for the adventure, you could conquer the shallow waters of Lake Cootharaba instead.
Original Eumundi Markets

If you want to soak up with some local flavours, schedule your Wednesday and Saturday mornings on a trip to the hintertown of Eumundi. Here is where the locals showcase their artisan delicacies, organic produce, locally designed clothing, home and skincare products, and other natural therapies. It's a great place to grab a quick lunch or shop for souvenirs. It's a child-friendly space and a perfect destination for families on a holiday.
Montville and Maleny

The quaint sister town of Montville and Maleny gives you a venue where you can take your eyes away from the pristine beaches in Sunshine Coast. The two towns are a 10-minute drive away and offers a cooler escape away from the sun and the sand. It also offers spectacular views of the valleys located in the area. Several galleries, cafes and boutique shops are also featured in their tree-lined streets.
Noosa North Shore

Internationally known as the gateway to the famous Fraser Island, Noosa North Shore is an enchanting strip of powdery white sand perfect for your next beach getaway. You can try out beachfront camping or ride 4-wheel drives near the coast. There are also several wildlife in the area such as goannas, lorikeets and kangaroos. Get access to the area via a ferry ride from Tewantin.
Arrival & Departure Procedures
ARRIVAL PROCEDURE
All arriving passengers into Brisbane Airport are to proceed to the information counter where check in will occur with the Sun Air attendant. Passengers will then be directed to their departing shuttle (if you have booked a private transfer our staff will coordinate this for you). Please endeavour to check in 5 minutes prior to your scheduled departure to ensure the service can leave on time.
All arriving passengers into Sunshine Coast Airport are to make their way to the Sun

 

Air

counter prior to collecting their luggage. The departure schedule will be displayed at the counter. Passengers are required to be at the counter ready to depart 10 minutes prior to departure time. Passengers are expected to actively look for their driver who will be wearing a blue shirt and red Sun

 

Air

hat.
If you require assistance, please phone (07) 5450 5933
LATE FLIGHTS
Passengers arriving from delayed flights, who missed the last service of the day, are required to make alternative travel arrangements at their own expense. Passengers booked on/who missed the last service hour will be eligible for a refund for the unused service. If your flight has been delayed please contact Sun Air immediately on (07) 5450 5933.

*Please note: Our services are unable to wait for delayed flights or late passengers. Sun Air is not responsible for delayed flights.

 
DEPARTING PROCEDURE
Your service should arrive during the 20-minute window outlined on your confirmation. You must be ready and waiting for the entirety of your pick up window.
If you miss your allocated service please make contact with Sun

 

Air

directly on (07) 5450 5933 ASAP. Ask your hotel/concierge if you require assistance.
Please ensure your mobile is switched on in case we need to contact you.
Passengers that are not found may not be eligible for refund or reimbursement.
Please do not depart in a taxi without making contact with Sun

 

Air

first.