Travelling from the Heart of Sunshine Coast to the Hinterlands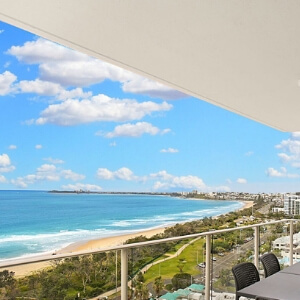 It will take you less than an hour to travel from Maroochydore Airport to Noosa. This favourite duo destination hits you with one nature adventure after the other. The route from Noosa to Maroochydore and back is enticing and will give a sense of excitement different from your other holiday experiences. Both areas, although opposite with each other, has unique enchantments that will make you crave for more and stay.
Maroochydore is located at the heart of the Sunshine Coast. Sunshine Coast is known to be one of the top destinations in Australia. Just the thought of being in the center of all the fun and various adventures to do, it is indeed a trip that should be included in any bucket list. It is situated magically where the river and the ocean meet, a charming feature unique to the area.
A short trip to the calm waters of the Maroochy River will make you want for more. The Pacific Ocean is also conveniently located on one side of the Maroochy River, a beautiful sight you would want to embrace over and over again. The view is just one of the best in the whole of Australia. There are also a lot of water-related activities to try and do. If fishing is one of your hobbies, you can enjoy plenty of that and more in the area. If you are up for some water adventure, paddling in the river or surfing till the sun sets or while the sun rises would be a treat for any water adventurer.
Several theme parks and outdoor activities can be enjoyed in Noosa. You can spend the day at the Aussie World, go karting at the Sunshine Coast Go Karting, visit the Ginger Factory, or simply enjoy being close to Australia's wild side at the Australia Zoo. There are also several locals and professionals from whom you can learn to paddle board.
For a more thrilling time above water, you can try out the Noosa Jet Boat rides and brave the waves and the sun together with your friends. The Bribie Island Adventure would be an ideal adventure for the faint of heart. Nevertheless, there are a huge number of outdoor and water activities that can be enjoyed in Noosa. Conclude your day with a beer at the best breweries in the area.
Sun Air will bring you safely from Maroochydore to Noosa (and back). With timely arrivals, convenient pick-up points, courteous staff and comfortable shuttles, your dream holiday begins with a one-of-a-kind ride experience with us.
Maroochydore to Noosa Shuttle
Travel with ease and comfort between these 2 top destinations via Sun Air's buses from Maroochydore to Noosa (or back). Book your transfers online hassle-free or call us to arrange your transfers on your preferred travel time and choice of pick-up and drop-off points. Daily services are available so you can sit back and relax while we transfer you in comfort to your destination.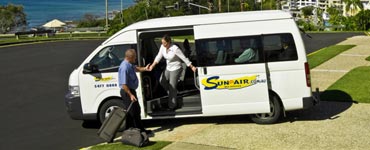 Transit Stops
Noosa Junction Station (Platform 1)
Noose Parade Transit Stop
Horton Parade Transit Maroochydore
Top Things to Do & See for Noosa <> Maroochydore Trip

Cotton Tree Parade

Experience authentic coastal lifestyle at the Cotton Tree located 200 meters away from the beach. This destination offers a full stunning view of the Mount Coolum as well as the Old Woman Island. The view would be more than enough to keep your cameras clicking to take in memories of the beautiful area. With several dining options to choose from, you'll have access to everything you need during your holiday.
The Thrill Hill

A fun activity for the brave of heart and the kid in you would definitely include the Thrill Hill in your itinerary. It is a hydro-powered slip-slide, one of the biggest and longest in Australia boasting of 120-meter of spills, slide, and excitement. You can go slower or faster, or try out the super fast experience by simply using an orange mat provided in the slide. Nevertheless, it's an experience you should not miss.
Big Pineapple

The Big Pineapple is host to the Wildlife HQ Zoo that features the native and unique wildlife of Australia. It is one of the most visited destinations in Sunshine Coasts' Noosa region. It's a perfect balance of indoor and outdoor nature experience where several wildlife are hosted and a tour to the rainforest can be experienced. The Big Pineapple offers a plethora of nature-inspired activity you'll definitely want to experience over and over again.
Chambers Island

At the heart of the Maroochy River is the enchanting Chambers Island. With views facing to the Bradman Avenue, it is an escape but a lookout where you still get to see the conveniences and the buzz of the busy Noosa CBD. You can try out a long list of water activities such as kayaking, boating, paddle boarding, sailing, and jet skiing. Find a nice spot and get your hook and line ready to bring home flatheads, whiting, and bream just in time for dinner.

Kayaking with Dolphins

A unique outdoor adventure that allows you to enjoy the humps and bumps of Sunshine Coast and then later on lazily relax on top of water would be best experienced via a 4-wheel drive kayak tour. The 6-hour tour include a guided dive in the sandy beaches of Noosa. It will lead you to the best spots in Double Island Point where you can swim and go kayaking together with dolphins, whales, and other marine life.
Noosa Bike Tours

Enjoy outdoor fun to the next level when you try out the Noosa Bike Tours. It's a quad bike adventure where you can practically spend the whole day trailing along the Noosa Hinterlands on a rugged quad bike. Stroll around the Woondum National Park in style as you conquer the rough road and the bumps in Noosa's hinterland. You might want to secure a driving license to be able to train and enjoy this activity.
Beer Crafting

The best form of relaxation would be a beer at one hand while lazing beneath the moonlight. You'll get to check out a lot of beer breweries on your visit to Noosa. A Beer Brewery Tour will tag you along the Land & Sea Brewery, the historic town of Eumundi, Copperhead Restaurant and Brewery and the outskirts of Noosa, Cooroy. The best part, you can enjoy free tasting in all of these beer havens.
Laguna Lookout

A free recuperating and nature-inspired experience can be enjoyed in Noosa via the Laguna Lookout. The scenic lookout is your key to sweep the stunning views of Noosa. Conveniently located 5-10 minutes away from the center of the town, you can simply admire the sunset, propose to a loved one, or simply walk along the tracks to enjoy a peaceful time, close to Noosa's stunning nature views.
ARRIVAL PROCEDURE
All arriving passengers are to make their way to the Sun

 

Air

counter prior to collecting their luggage. The departure schedule will be displayed at the counter.
Passengers are required to be at the counter ready to depart 10 minutes prior to departure time.
Passengers are expected to actively look for their driver who will be wearing a blue shirt and red Con-x-ion hat.
If you require assistance, please phone 1300 266 946 or +61 7 5556 9888.
LATE FLIGHTS
Passengers arriving from delayed flights, who missed the last service of the day, are required to make alternative travel arrangements at their own expense. Passengers booked on/who missed the last service hour will be eligible for a refund for the unused service. If your flight has been delayed please contact Sun Air immediately on 1300 266 946.

*Please note: Our services are unable to wait for delayed flights or late passengers. Sun Air is not responsible for delayed flights.

 
DEPARTING PROCEDURE
Your service should arrive during the 20-minute window outlined on your confirmation. You must be ready and waiting for the entirety of your pick up window.
If you miss your allocated service please make contact with Sun

 

Air

directly on 1300 266 946 (Australian) or +61 7 5556 9888 (international) ASAP. Ask your hotel/concierge if you require assistance.
Please ensure your mobile is switched on in case we need to contact you.
Passengers that are not found may not be eligible for refund or reimbursement.
Please do not depart in a taxi without making contact with Sun

 

Air

first.