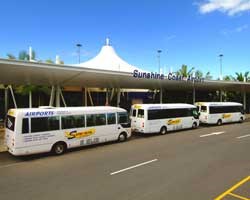 For shuttle transfers after hours - or for that "little bit extra", Sun-air offers premium/sole use shuttle transfers from the Sunshine Coast Airport to any suburb of the Sunshine Coast, with full porterage included.

This service is available 24 hrs and must be pre-booked and pre-paid.* 

The Sun-air driver will meet you at the luggage carousel beside the Henry's counter at the Sunshine Coast Airport terminal. Our driver will be holding a Sun-air sign with your name on it. You will then be transferred directly to your Sunshine Coast accommodation.
On your return your Sun-air driver will pick you up from the front door of your Sunshine Coast accommodation and transfer you directly to the Sunshine Coast Airport check-in counter.
Sun-air does not operate Sunshine Coast Arport on Christmas day.
Fares
Rates are currently being updated, please contact Sunair on 1300 266 946 for a quote.
Approximate Travel Times
Sunshine Coast Airport Premium and Charter Procedures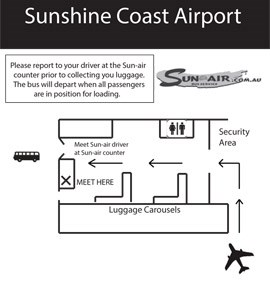 Your Sun-air driver will meet you inside the terminal, at the luggage carousel next to the Con-x-ion counter. The driver will be holding a Sun-air sign with your name on it. You will then be transferred directly to your accommodation.
Should you become at all concerned, please phone:
1800 804 340 or 07 5477 0888
or after hours 0403 726 390

Conditions of Travel
If your flight plans are altered it is vital that you notify the Sun-air office. We cannot guarantee pickup to or from the Airport for any new or altered flight times unless advised of the new flight times. 

BAGGAGE is limited to two suitcases per person.
Max 20Kg per item. Please advise of any excess baggage.

FOOD or DRINK are not to be consumed on Sun-air buses. 

SMOKING, Drug and Alcohol consumption is prohibited on Sun-air airport shuttle services.

REFUNDS will be subject to the following fees:
Cancellations over 24 hours prior to departure will incur a $10 minimum cancellation fee.
Cancellations less than 24 hours prior to departure - Nil refund.
Failure to board - Nil refund.
Please note that our minimum cancellation fee is $10.

DELAYS Sun-air will not be responsible for delays due to circumstances beyond our control. However, we will make every effort to overcome the problem.

All information contained herein is subject to change 
without notice.