Sunshine Coast Airport - Door to Door to Northern Suburbs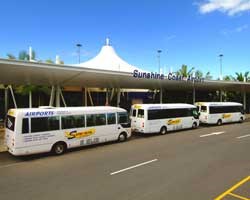 Sun-air meets every jet for Pre-booked and Pre-Paid passengers only and provides a door to door shuttle transfer to Sunshine Coast holiday accommodation and private residences to all suburbs north of the Sunshine Coast Airport including Novotel Twin Waters, Marcoola, Coolum, Peregian Springs, Peregian Beach, Sunrise Beach, Sunshine Beach, Noosa Heads and Tewantin.
Please note there are no services for the Sunshine Coast Airport on Christmas Day.
For passengers departing from Sunshine Coast Airport, Sun-air shuttles arrive at the terminal a minimum of 1 hour prior to the flight departure time. Pick up times from your accommodation are advised when making your reservation.
All passengers are asked to phone Sun-air bus service on 5477 0888 between 2pm and 5pm the day prior to the shuttle service departure, to confirm pick-up times.
All shuttle transfers must be pre-booked and pre-paid.
Sunshine Coast Airport Arrivals Procedure

Please report to your driver at the Sun-air counter prior to collecting your luggage.
Should you become at all concerned, please phone:
1800 804 340 or 07 5477 0888
or after hours 07 5450 5933
Conditions of Travel
If your flight plans are altered it is vital that you notify the Sun-air office. We cannot guarantee pickup to or from the Airport for any new or altered flight times unless advised of the new flights times.

BAGGAGE is limited to two suitcases per person.
Excess baggage $6.00 per item. 
Max 20Kg per item.

FOOD or DRINK are not to be consumed on Sun-air buses. 

SMOKING, Drug and Alcohol consumption is prohibited on Sun-air airport shuttle services.

REFUNDS will be subject to the following fees:
Cancellations over 24 hours prior to departure will incur a $10 minimum cancellation fee.
Cancellations less than 24 hours prior to departure - Nil refund.
Failure to board - Nil refund.
Please note that our minimum 
cancellation fee is $10.

DELAYS Sun-air will not be responsible for delays due to circumstances beyond our control. However, we will make every effort to overcome the problem.

All information contained herein is subject to change without notice.